This manual explains how to roast using RI's control and replay feature.
The control measurement is only available for specific machines. Check our "Cropster roast machine partner"-page to see whether your roast machine is supported.
Using the control bar
Start your roast as you usually would in the RI. Now, instead of manually adjusting the gas supply at the roast control board, use the Gas & Air control bars at the right-hand side of the RI.
For small adjustments, use the + and - button.
For big adjustments, use the bar by dragging and dropping the slider
For instant adjustments, click the respective percentage values shown next to the bar to instantly adjust gas or airflow accordingly.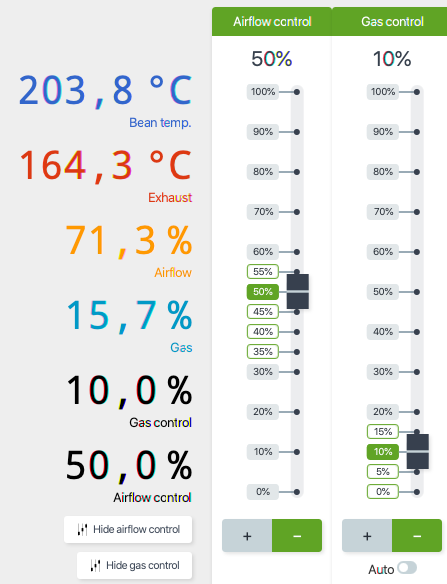 As soon as you have recorded one roast with the control bar, set this roast as the reference to switch into Replay assist.
Replaying a roast
NOTE: Never leave the roast machine unattended while replaying a roast. Cropster replays the roast and captures the details, but you are always responsible for monitoring the roast machine to ensure it is operating safely.
When using the Replay assist at the beginning of a roasting day or after a cool down period, special attention should be given in monitoring the automated changes during the first 1-3 batches, as the roasting machine may not have fully heated up and not roasting consistently.
Additional adjustments may be required during these roasts.
Prepare your roast by entering the Profile, Green Inventory and Start weight.
The RI is only able to replay roasts if the reference roast has been conducted using the Cropster control bar. Learn how to set a reference.
A green Replay button appears at the bottom next to the Start button.

Click the Replay button to start the roast using Replay assist.
In replay mode the gas and airflow changes will be applied automatically during the roast based on the bean temperature of the reference roast.
Upcoming auto adjustments will be shown in the comments box at the right-hand side, marked with the Replay icon.
You can always manually overwrite the settings when using Replay assist via:

the roast machine's control board.
the control bar in the RI.

If you want to switch off Replay assist, use the toggle button at the top of the control bar.
By default, five seconds after the roast has been finished, gas and airflow will be automatically adjusted according to the reference's initial settings to prepare the roaster for the next batch.
Congratulations! You are now ready to use the Gas & Airflow control assistant!
Thanks for being a Cropster customer! If you have feedback, questions, or concerns, please feel free to send it to your representative or directly to support.cropster.com.
We design and make alterations to our software based on user feedback, so we look forward to seeing what you have to say!