This manual shows you how to manage your profiles and create single origin profiles.

Why use Profiles?
Profiles allow you to track each roast based on how you roast them. Additionally, within a profile you can set a reference curve, placing a grey curve in the background while roasting.
A reference curve will also show your roast comments, start weight, start and end temperature, first crack temp and time, development time and ratio, and more!
You can also create pre-roast blend profiles and associate green lots with a specific profile so that you can accurately track your inventory.
Creating a profile
There are three types of profiles in Cropster:
This manual covers how to create a Single Origin Profile. To get more information about Pre-Roast and Post-Roast blends follow the links above.
Log in to the online platform C-sar.
Click Roasts > Profiles to get to the Profiles overview page.
Click + Create Profile.
Select Single origin and enter General details:


Profile name*: Give your Profile a name.
Associated profile group**: Select a Profile group to link the new profile.
Note: This can be done later on from the Profile groups page.
Name roasted batch using: Choose how you want to name the roasted batch.
Reference roast: Select a reference roast (remember this will be the grey curve in the background of your Roasting Intelligence that guides you through the roast). If you do not yet have an appropriate reference roast, you can choose one later.
Associated green lot(s)*: Select the green lot you want to use with this profile.
Ideal batch size*: Enter the batch size for your profile.
Expected weight loss: Enter the expected weight loss. If you leave this field empty, Cropster will automatically enter the average weight loss after 10 roasts.
Restrict profile to these machine(s): Restrict profile to certain machines.
Notes: Add notes to the profile.
Goals**: Exclude profile from global roasting goals.
* These options are essential
** Roast Goals and Profile groups are available on Professional and higher tiers.

Click Create profile and review the profile.
To make the newly created profile immediately available in Roasting Intelligence (RI), click the Synchronize-button within RI.
We recommend a maximum number of 100 active profiles. If you have exceeded the recommended amount of active profiles, please archive any profiles you may not need as this may lead to synchronization problems with RI.
The Profile page

Action buttons

Manage your profile by using the action buttons in the upper right corner. You can copy, archive, export or edit your profiles.
Status

Machine / Location

If the profile is restricted to a certain machine you will see it here. The location is linked to the machine the profile is assigned to.
Components

In this section, you can edit the green lots. You can add other green lots by clicking the + button, replace a lot by clicking on the arrows or remove a lot using the x. Customize the information displayed by clicking on Customize.
Reference roast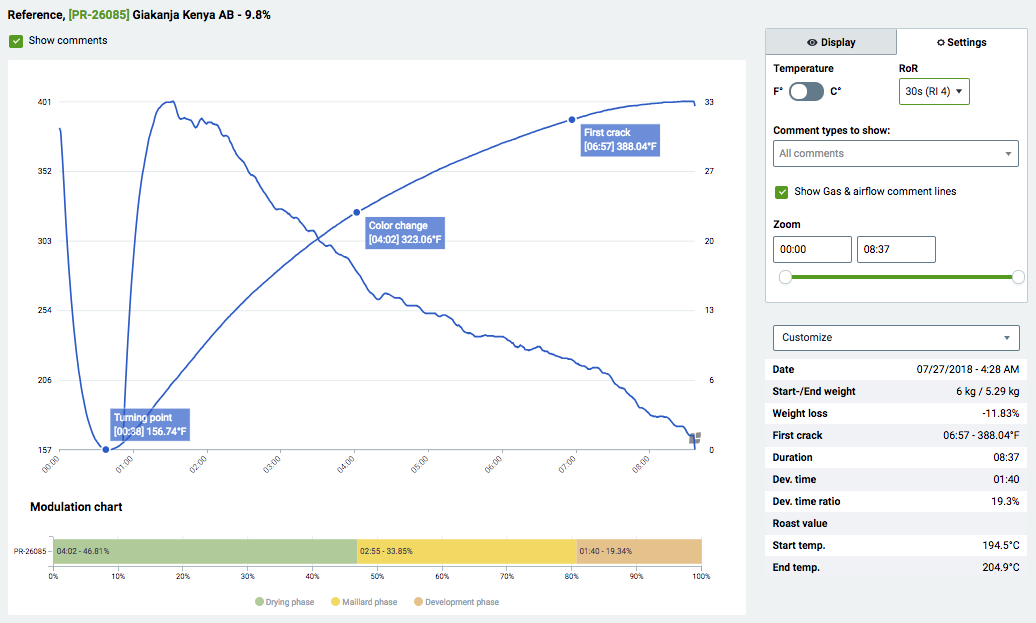 This section shows the reference roast of the profile. You can customize the view using the actions field on the right-hand side of the graph.
Managing profiles
You can edit, archive and copy your profiles as well as track the production of your profiles directly via the overview page.

| | |
| --- | --- |
| | Customize your columns: Click the Customize button and choose the columns you want displayed by checking the box next to the information you want to see. (1) |
| | Replace lots: If you run out of a specific green inventory, you can replace your lots by clicking on the Arrow icon next to the green lot. (2) |
| | Archive profiles: If you don't need a profile at the moment, but might want to reactivate it later on - Archive your profile by clicking on the green dot. (3) |
| | Edit your profile by clicking on the Pencil icon. (4) |
| | Copy your profile by clicking the Copy icon. (5) |
| | Track the production of your profiles by checking the box next to the profile and click Open in production report. (6) |
| | Click Profile clean-up to bulk archive your unused profiles. (7) |
Replacing green lots in multiple profiles
If you have multiple profiles that use the same coffee and need to replace the lot on each of those profiles, you can find and replace the old lot with a new one.
Go to the Profiles overview page and click Replace green lot.
Search for the lot you want to replace.
Click on Search for profiles. Cropster will list all related profiles.
Select the profiles you want to replace the lot in by checking the box next to the profile's name.
Search for the new green lot by entering the ID tag or lot name.
Confirm by clicking Replace.

Deleting profiles
To delete a profile permanently, you need to archive it first.
Click on the green dot to archive the profile.
Click the trash icon.
A window pops up. Click the Delete button to delete a profile permanently.

Congratulations! You are now able to create and manage profiles!
Thanks for being a Cropster customer! If you have feedback, questions, or concerns, please feel free to reach out by submitting a support ticket directly from support.cropster.com.
We design and make alterations to our software based on user feedback, so we look forward to seeing what you have to say!