This manual will walk you through the process of adding Roast Goals.

This article goes over the following:
Roast Goals overview
The Roast Goals feature allows you to track which roasts are within your consistency goals without using a Roast Comparison report. Cropster will auto-check your roasts for different parameters and provide immediate feedback after your roast, and at the end of your roasting day in the production email, letting you know which roasts passed or failed.
To get to the Roast Goals page:
Log-in to the online platform C-sar.
Go to Roasts > Goals.
The columns displayed in your Goals Overview can be edited. We recommend that you leave them enabled at all times, but you may find a different combination that you prefer.
Within the Goals overview page you can do the following:
Create a roast goal
Edit your columns: click on Customize, then on the columns you want and they will show up.
Edit a goal: click on the pen icon.
Delete a goal: click on the trashcan icon.

View a report: click on See report and you will be led to the Roast Ranger report that shows you what roasts have been passed.
Creating a Goal
To create a goal, click on +Add goal.
You can set up universal goals that apply to all profiles or goals for certain profiles only., by selecting one the following options:

All profiles/roasts
Selected profiles
Furthermore, you can set up relative (Meet the reference) and absolute goals.
Relative Goals
Relative goals are dynamic and allow you to set goals based on your reference curve or profile.
Note: Relative goals automatically adapt according to the reference curve.
Meet the reference
When creating a new goal, simply choose the option Meet the reference and enter the categories that you wish to track. Then enter an acceptable range for your goal in this category. Once you have set your range, it can be skewed in either direction.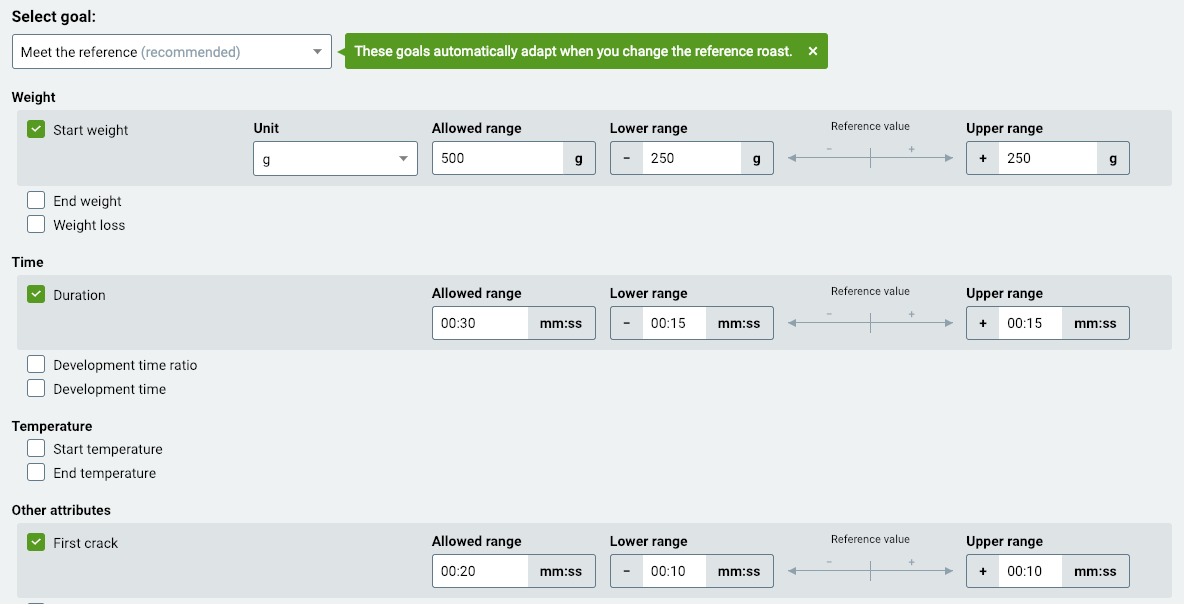 Absolute Goals
To add an absolute goal, select any category, then choose the precise values that you want to set. You can set an upper bound, a lower bound, or both in each category.
Note: Absolute goals are static values for profiles, and will not change with your reference curve.
You are now ready to use Cropster Roast Goals!
Thanks for being a Cropster customer! If you have any feedback, questions, or concerns, please feel free to send them to your account manager, or directly to support@cropster.com.
We design and make alterations to our software based on user feedback, so we look forward to hearing what you have to say!