This manual shows you how to use the cupping app Cropster Cup.
Requirements and Download



Cropster Cup is available for iPhone, iPad (iOS 11+), all Android devices (5+) & Kindle Fire. Log into the device's application store and search for Cropster Cup.
To log in to the cupping app, use the same credentials you are using to access the online platform and the Roasting Intelligence.
Cupping sheets
Cropster Cup is compatible with any cupping process, and we have a wide array of forms available for you to log your information.
Quick Cup Basic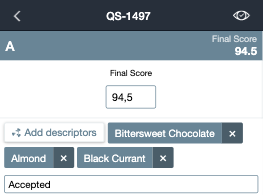 SCAA 2015 (Cup ready)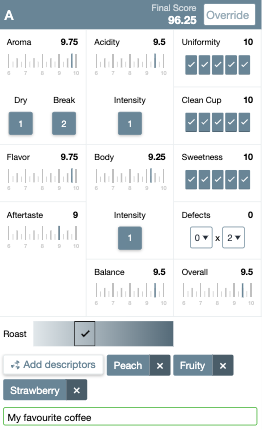 Production cupping - 3CAT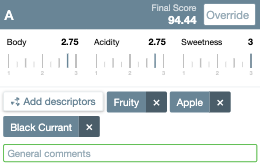 Custom cupping sheets

If the available sheets do not match your needs, contact hello@cropster.com. We would be happy to create a custom cupping sheet for you.
Logging in and entering a session
Use the same credentials you are using to login to the online platform to log in to Cropster Cup.

Enter the group you want to cup for.

If there are not any open sessions yet, you can create a new session directly within the app or within C-sar.
If you already have scheduled a session via the online platform, tap the Enter session button.
Note: there is a limit of up to 25 viewable sessions in Cropster Cup
Creating a session within the app
Cropster Cup has the ability to create sessions from within the app. Depending on your subscription plan, some features may or may not be available.
There are two types of sessions:
Standard non-blind sessions
Advanced sessions* which offer better tracking and blind cupping sessions
Advanced Sessions are reserved for Lab and Roast Professional accounts. Advanced session features are indicated with a * below.
Note: Closed sessions will disappear after 30 days from the cupping app.
Setting up a session
To create a new session, tap the + sign at the top or the Create session button on the dashboard (when there is no open session).

Name: Give your session a name so it's easier to find.
Sheet*: Select a cupping sheet you want to use.
Lab: Track samples across multiple labs.
Setting*: Choose between Blind and Non-blind.
Label*: For blind cuppings, choose between alphabetical (A, B, C), numerical (1, 2, 3) or three-letter (ABC, DEF, GHI) labels.
Samples: Search and add samples, inventory or production lots.

Check the box next to lots you want to cup.
If you know the ID tag, you can quickly enter it in the search field. Results are limited to the past six months.
You can also change the order of the lots by using the arrows next to the selected samples.


Once you have finished the setup, tap Start cupping.
For blind cuppings*: Check whether your physical cupping setup matches the labels and tap Start cupping to begin with your session.
For more information on how to schedule a session for Cup within the online platform click here.
Logging your sessions with Cup
Entering Scores
Once you are in the app, entering scores should feel intuitive.
To enter a score you can tap the drop-down or slider and select the score.

You can enter descriptors by tapping on the Descriptors button and typing in any descriptor. Select the descriptor from our glossary.
If you enter a custom descriptor, it will be saved to the glossary for future use.

By tapping on a logged descriptor you can enter Intensity and/or mark your descriptor as Negative/Positive.

Custom descriptors have a character limit allowing up to 80 characters. Creating a custom descriptor exceeding the limit will prevent the data from being synchonized to your account. The cupping data will need to be entered anew.
Reviewing results and submitting
It is important to review your results before submitting them.
Once you have submitted the results you cannot make changes from the app.
Tap the Review button in the upper right corner of your window to see your results at a glance.

When you are happy with your results, tap checkmark icon to Finish & Submit to send the cupping data to the server. Any changes that need to be made afterwards can be made online in C-sar.
If you want to revise your scores, go back to continue cupping.

Login to C-sar to review your cupping results.
Reviewing scores after submittal via "Completed" tab
After having submitted scores from Cropster Cup, you can review the submitted scores directly from the Cropster Cup application.
From Cropster Cup, tap the
Completed tab
.
Under Submitted sessions on this device, refer to the session you want to review.
Click the Review session button corresponding to the session in question.
If you log out of the Cropster Cup app, the session data from the completed sessions is wiped out and reloaded from our server. You will be able to see the completed sessions below the Other submitted sessions, though we do not load the details of the submitted session for review.
You are now ready to use Cropster Cup!
Thanks for being a Cropster customer! If you have feedback, questions, or concerns, please feel free to reach out by submitting a support ticket directly from support.cropster.com.
We design and make alterations to our software based on user feedback so we look forward to seeing what you have to say!