In this manual, we will show you how to add green coffee, make adjustments, view your lot's history and access your inventory report.

Inventory in Roasting Intelligence
In order to use Roasting Intelligence (RI), you will need to add green inventory.
Each time you roast a coffee you should select a:
Team member
Green Inventory
This will help you create a better log file and keep track of your inventory. Cropster will automatically subtract the green coffee used in your roast, saving you time and energy.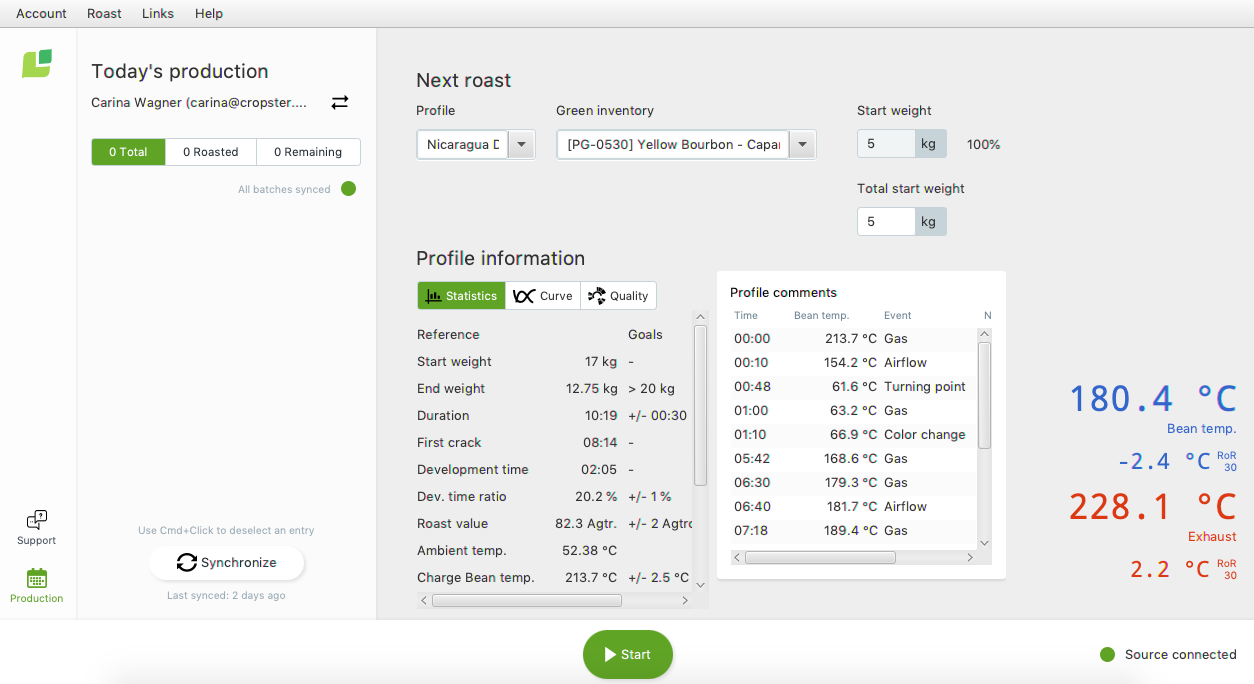 Inventory in C-Sar
You can manage and track your green inventory with the online platform C-sar in real-time.
Adding green coffee
Log in to the online platform C-sar.
Go to Green Inventory in the menu bar at the top.
To add a lot click Add Inventory and then select One or Many from the drop-down.
When adding the inventory for the first time, a window pops up where you can set the information you want to track with your greens. Check the box next to the information you want to capture. This will be your default view.
Adding Many
Clicking Many brings you to the bulk uploader where you can add multiple lots at the same time via a built-in spreadsheet.
Enter at least the Name, Weight and Weight unit.
To save time entering lots, you can copy and paste data from an Excel or Google sheet directly to the import table or hover with the mouse pointer over the bottom right corner of the cell until a + sign appears and drag it down to copy cells within a column.
Click on Columns to customize your sheet.
Click Import lots to submit.
A PG-number

(

P

roduction

Green) will be assigned to your lots.

Adding One
If you want to enter a single lot at a time, click One.
The input fields can be customized via the Customize fields button.
Enter the information you want to add to your lot.

Click Create green inventory to submit.
Bulk-editing your lots
It is very easy for you to make changes to your green lots. You can edit them individually from their unique lot pages or bulk-edit them from the inventory page.
To edit the lots directly from the inventory page, check the boxes next to the lots you want to edit. A menu bar appears on top of the table.

By clicking on Manage, you can perform the following functions:
Adjust weight
Warehouse Distribution
Merge inventory
Mark consumed
As well as:

Adjust weight
If you want to change the weight of a certain lot, use the Adjust weight function.

Warehouse Distribution
If you have coffee in multiple locations, use the Warehouse Distribution function to distribute the lots amongst your locations.

Merge Inventory
If you want to merge two or more lots, check the boxes next to the lots you want to merge and click Merge Inventory.

Mark consumed
If you want to empty a specific lot simply click Mark consumed. Consumed lots disappear from the main view.

Edit
If you want to edit your lots individually or add further information click the pencil symbol.

Delete
We at Cropster recommend marking the lots as consumed instead of deleting them, this will allow you to keep track of your inventory over the years. Should you need to delete a lot, you can with the delete function.
Lot history and run-out date
Viewing your lot's transaction history will give you some insights into your coffee usage. Based on past transactions, Cropster predicts when you may run out of a coffee.
Go to a lot's detail page by clicking on a PG-number.
The weights section gives you the following information:

Initial weight
Current inventory (turns yellow if it is below the minimum inventory level)
Minimum inventory level (optional)
Projected run-out date


To view your lot's transaction history click on Show history.
Each data point on the graph shows the weight at the beginning of the day.

The yellow dot shows the initial weight
The blue line shows the history of your lot
The green dot shows the current weight
The red line shows the projected run-out date

Customizing your green inventory view
You can easily customize which information is visible on your green inventory page.
Go to the Green inventory overview page.
Click the Customize drop-down menu and add ar remove fields by clicking the corresponding checkboxes.
Make consumed lots visible in the overview by using the toggle button at the bottom.
Note: Your settings will be saved to the server, so you do not have to change them each time you navigate to this page.
There are also three presets you can choose from: Availability, Supply network and Quality. These presets will show you certain key lot information based on each category without you having to select individual boxes.
Tracking coffee by location
You can split your lots between locations. This means that you can track your coffee from origin to warehouse to roastery and split coffees across multiple locations. When making adjustments, you can split a single lot or multiple lots at the same time which is helpful when placing orders.
Inventory report
The Inventory Report shows your green inventory on a specific day, and/or a specific location. The Inventory report has two Report types:
*only available for Professional and higher tiers.
Roast Professional only (Note): You can switch from the Snapshot Report view to the Timeframe Report view * of the Inventory report by clicking the respective tab.

To access the report, click on the See inventory report button on the top of the Green inventory page or open it via Reports > Inventory report in the main menu.
Switch between the By lot-, By location-, and By name-view by clicking on the tabs below the Overview Green Inventory section.
You are now ready to manage your green coffee inventory!
Thanks for being a Cropster customer! If you have feedback, questions, or concerns, please feel free to reach out by submitting a support ticket directly from support.cropster.com.
We design and make alterations to our software based on user feedback, so we look forward to seeing what you have to say!