This manual shows you how to use Sensorial Sessions within the online platform.

---
Cropster's Sensorial Session feature is available on all subscription plans with the exception of certain features that are only usable in higher tiers.
"Advanced sessions" are reserved for Roast Professional and higher tiers and Lab accounts. Advanced session features include blind cupping and better tracking.
If you would like to try advanced session features, we offer 14-day trials of higher packages to current Cropster users. Please contact your sales representative or simply email hello@cropster.com.
The following can be done with the base version of sensorial sessions:
Production and inventory evaluations
Entering results in bulk with one or more evaluators
Comparing results by category, descriptions, and notes across all results
---
Preparing a Sensorial session (Cupping session)
Log in to the Cropster online platform to get to your dashboard.
Go to Quality > Cupping sessions in the menu bar.
To create a new quality session, click on the +Add cupping session button on the upper-right corner of your window.
When setting up a session you have the following customization options:
Advanced session features are indicated with a *


Session type*: Choose between Non-blind, Blind and Double-blind cupping.
Schedule for*: Schedule a session for a specific date and time.
Name: Give your session a unique name so it's easier to find.
Sheet*: Select a cupping sheet you want to use.
Lab: Track samples across multiple labs.
Category*: Categorize your cupping sessions.
Label*: For Blind and Double-blind cuppings, you have three label options:

Alphabetical (A, B, C)
Numerical (1, 2, 3)
3 Letters (ABC, DEF, GHI)


Samples: Select the lots and samples you would like to include in this session from the table by clicking the Add button next to the sample.

To speed up things, the table is limited to only show lots and samples registered within the last month. Simply adjust the registration date filter if you cannot find your desired lot. (1)
You can also change the order of the samples/lots on the table by dragging-and-dropping the selected lots into the right order. (2)

Click Save as draft if you want to alter the session at a later point or click Save & Next to submit your session and start cupping.
A QS-tag (QS-xxxx) will be assigned to your session.
A QC-tag (QC-xxxx) will be assigned to each sample of a session.
Session status
A Session has three stages:
Draft: In the draft stage, the session can be edited. You can add/remove samples, change the cupping sheet, etc.
Open: When a session is open, it's time to evaluate and submit results via Cropster Cup or directly within the online platform. Open session settings can not be altered.
Closed: Indicates that a session is done and all results have been submitted. However, your results can be edited. If necessary, it is possible to reopen a session.
Evaluation
Once a session is open, it is available in Cropster Cup. Every user of your account with Cropster Cup permissions can now evaluate the samples individually via the cupping app.
Learn how to use Cropster Cup.
To enter the results for you and/or your team in bulk, follow the steps below:
Go to Quality > Cupping sessions and click the session ID (QS-xxxx) of the session you would like to enter results for.
Click the Enter session button in the top left.

Click Enter results now.

Add the Evaluators you want to enter the cupping results.


If you have more than one evaluator selected, choose how you would like to group your samples - either by evaluator or by samples.

Select the Display mode.
Note: Can be changed later on the evaluation screen.

Quick: Shows Categories and general descriptors only.
Advanced: Shows Intensities and roast value field per sample.

Click the Start button to begin entering results.

Now you can start entering the results.

To add descriptors, click on + Descriptors and start typing. Select a descriptor from the drop down or add a new descriptor.
Click the descriptor, to add a perception (negative or positive) or intensity.

Click on Save analysis to review the results, or click Save & close to finish.
Note: A closed session can not be evaluated anymore and does not show up in Cropster Cup.
Analysis
The Session summary
Once a session has been evaluated, you can review the results.
Details: Shows you the main information of the session. (1)
Session stats:

Shows you the number of samples, evaluators and submitted results. (2)

Evaluators:

Shows you all participating evaluators. Edit your evaluators or click the green dot to exclude the results of a specific evaluator. (3)

Results: Shows you detailed list of all results. (4)
Hint: Customize the table view by clicking the Customize button in the top right and select the information you want to see.


View X in Roast Compare:

Click the button to see your samples in Roast compare view.
Comparing final Scores
Overall results: Compare your final results and sort and label them.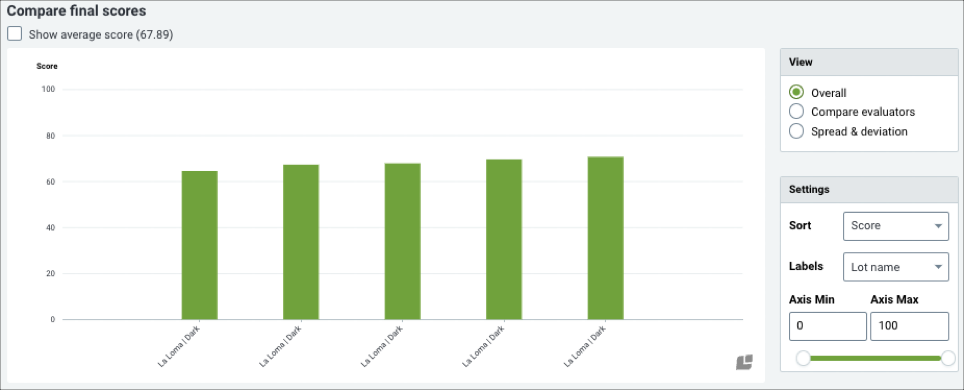 Compare evaluators: Switch to the Compare evaluators view to see how aligned your cupping panel is and to identify any outliers.

Spread & deviation: The Spread & deviation view shows you the distribution and variance of the results.


---
Comparing categories
Compare the samples scores per category and its averages.

---
Comparing descriptors
See and compare the descriptors at of your samples at a glance.

You are now ready to use Sensorial sessions!
Thanks for being a Cropster customer! If you have feedback, questions, or concerns, please feel free to reach out by submitting a support ticket directly from support.cropster.com.
We design and make alterations to our software based on user feedback, so we look forward to seeing what you have to say!