In this article you will learn how to manage your equipment across your locations, and how to link equipment with brews and tasks for greater overview and insight.
You need to have Cafe manager permissions to perform all the functions described in this article.
Why use equipment?
Equipment allows you to have a great overview of your key brewing devices across your locations. You can connect recipes and brews to the specific pieces of equipment they were brewed on, so you can get greater insight as to how they reflect the quality.
You can also link tasks to each piece of equipment, so you and your teams stay on top of all the important cleaning tasks, and you have an easy to access historical overview of what's been done.
Note: Using the Equipment feature is not mandatory for the Recipes feature to work.
Setting up equipment
Creating new equipment
Log into our online platform C-sar.

Navigate to Cafe > Equipment and click the +Add equipment button. Enter the information you want to add to your equipment.

Equipment type: Select the type of equipment you would like to add (e.g. grinder, espresso machine, etc.)

Equipment brand: Choose the equipment's brand (e.g. La Marzocco, Nuova Simonelli, etc.)

Equipment model: Choose the equipment model (e.g. Strada, Linea, etc.)

Number of groupheads: Define the number of groupheads on the espresso machine.

Serial number: Log the equipment's serial number.

Equipment alternative name: Assign an alias for your equipment.

Equipment location: Select the location where the equipment is located.

Stations: Select the specific station for your equipment.

Equipment comment: Add any additional information about your equipment.

Click the Create equipment button to submit.
Create a new station or location by navigating to Cafe > Equipment > Stations tab and selecting "Add station"


After creating the new location/station, simply verify it is selected from the drop-down menu.
Learn about managing locations, or learn about creating equipment stations.
Updating existing equipment
Navigate to Cafe > Equipment.
Find the equipment you want to edit, and select the Edit button.

Select the Update equipment button when you have made the changes.


Linking brews to equipment
As soon as you have your equipment set up, all the brews done in the equipment's designated location will be linked to the locations's equipment. If you would like to use only a select group of equipment within a location, use equipment stations.
In the Brews table, on a recipe's detail page, you can see the equipment used from the Equipment column.
Activate the column by clicking on the Customize drop-down menu, and enabling the Equipment checkbox.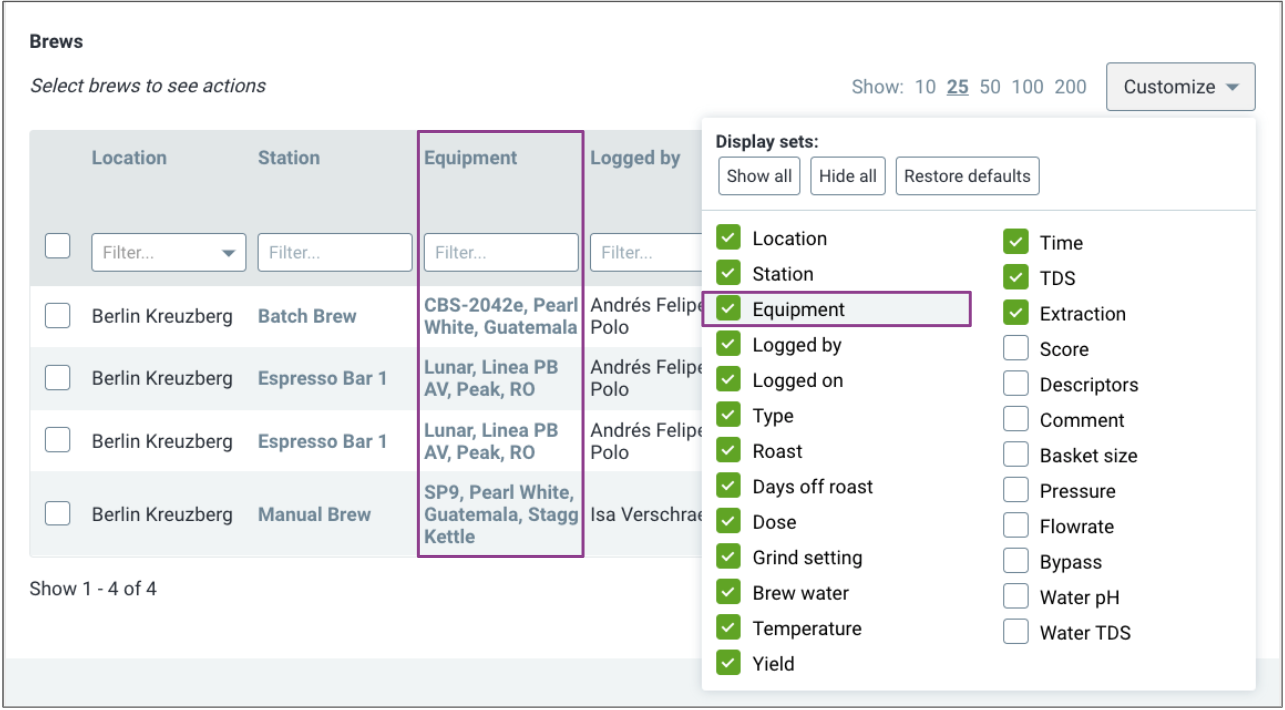 Linking tasks to equipment
Creating a task
You can create a task (e.g. Clean the grinder) and connect it to a specific location and piece of equipment. To do this, please try the steps outlined below:
From the Cafe dashboard, scroll down to the Today's tasks section.
Alternatively, go to Cafe > Tasks to go to the Tasks overview page.
Click the + Add new task button.

Give the task a Name.
Select the Location where your equipment is located.
Select equipment from the Link with Equipment drop-down menu.

Select the desired Frequency and Starting date.
The task can have a frequency of just one time, or it can set to be daily, weekly, monthly, and yearly.
(optional) Add a comment.
Click the Create task button.
Historic overview of tasks
Find your equipment from Cafe > Equipment.
Click on the equipment you want to review, to go to the equipment's overview page.
Select the Tasks tab.
On the Tasks overview page, each task has a status which is reflected as Done, Not done, or To do.

Note: Tasks in the current chosen location that are To do for the next 7 days will show up on the Cafe dashboard. Done tasks will stay on the Cafe dashboard until their completion date.
If a task has been marked as Done by a team member, and you need to set it back to the status To do, a task's status can be changed back until 23:59 on the task's completion date.
A task history where you can apply filters can be seen under the Tasks overview page, but a history of the tasks connected to a specific machine can be seen on each equipment's detail page.
Congratulations! You are now ready to manage equipment.
Thank you for being a Cropster customer! If you have feedback, questions, or concerns, please feel free to reach out by submitting a support ticket directly from support.cropster.com.
We design and make alterations to our software based on user feedback, so we look forward to seeing what you have to say!