This article gives you an introduction to the Tasks dashboard and shows you how to check off your tasks.
After logging in to the Cafe dashboard, you will see a message that leads you to your unfulfilled tasks (for the selected location) for today.

Click Take me there or scroll down to the bottom of the dashboard to see your tasks.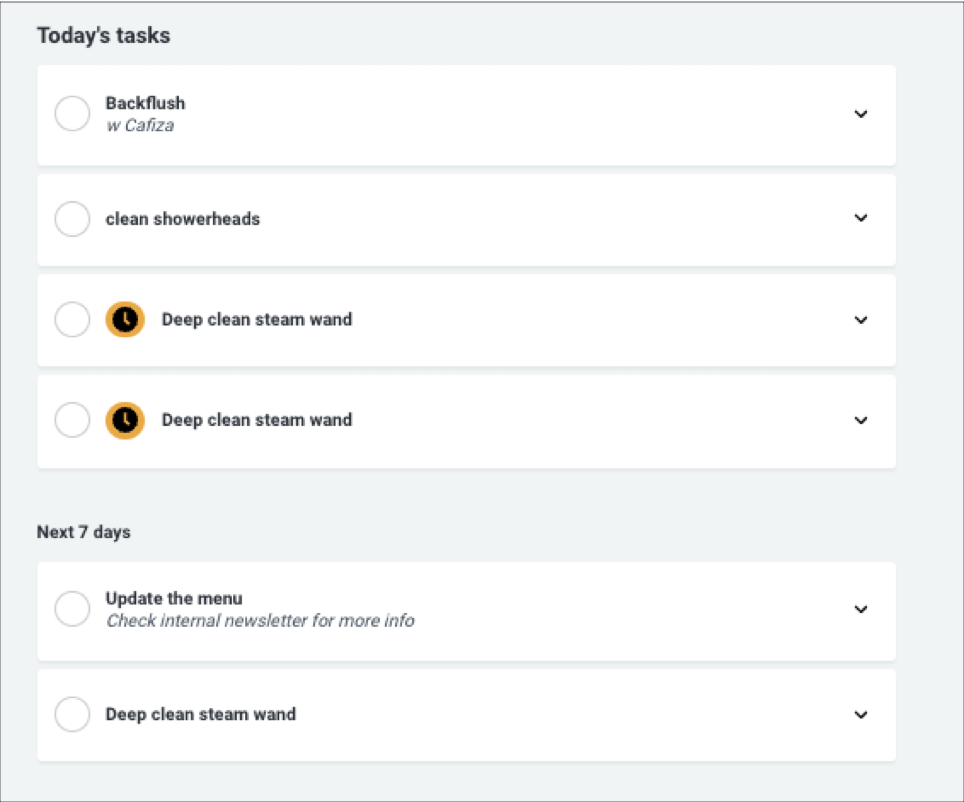 All unassigned tasks and tasks that are specifically assigned to the user logged in show up on the Dashboard, either under Today's tasks section or under Next 7 days.
---
Checking off tasks
Click the radio button to mark a task as done. A green checkmark icon appears.

Click on the arrow on the right hand side to reveal more information on a specific task:

Equipment: Only shows up if the task is linked to a specific equipment.
Created by: Shows you who has set up the task.
Frequency: Indicates that the task has been created by a task schedule and shows you its frequency.
Details: If details are provided they are also shown under the task directly.
Comment: Allows you to add a comment to your task.

If you want to add a comment to a specific task, click Add a comment.
Note: Comments for unassigned tasks can be edited and deleted by everyone with Task viewing permissions.

Add your comment to the text field and click Save comment.
Once all of today's tasks are checked off:

Congratulations! You are now ready to fulfill tasks within Cropster Cafe.
Thank you for being a Cropster customer! If you have feedback, questions, or concerns, please feel free to reach out by submitting a support ticket directly from support.cropster.com.
We design and make alterations to our software based on user feedback, so we look forward to seeing what you have to say!