In this article you will learn about tracking gas and/or airflow when using the Roasting Intelligence (RI).
How to manually track Gas and Airflow within Cropster?
In case Cropster does not support the Gas or Airflow measurement(s) of your roast machine, you can track the measurements manually.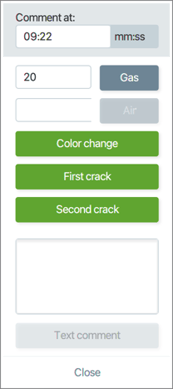 Start roasting with the Roasting Intelligence (RI)
When you adjust Gas or Airflow, click anywhere on the chart with your mouse and a comment-window will appear.
Enter the % value (just a whole number from 0 - 100) and click the Gas or Airflow button.
The fields will be pre-filled, according to the gas/airflow adjustments of the reference roast you've set.
The gas or airflow comment will be marked with a red line on your chart.
After you've synced your roast, Cropster creates a chart from the entered numerical values, which you will see within our online platform C-sar.

Tracking gas/airflow automatically
Depending on the roast machine and on the machine's PLC or PID, we might be able to track airflow or gas automatically.
Note: If your roast machine is able to track the "Gas" measurement automatically, the measurement must be set up from the RI's Machine preferences.
Tracking gas/airflow automatically for other machines:
If you are using a Cropster Connector (data bridge) to connect to your roast machine, your readouts are limited to a maximum of four temperature values. With the help of a gas technician you can add extra hardware (e.g. Phidget 1136/1138) to retrofit your machine to facilitate gas/airflow readings in Cropster.
Please send us a message via support.cropster.com if you are unsure which connection type your roast machine supports.
Cropster's Gas/Airflow Control & Replay assist
Cropster's Gas/Airflow control allows you to regulate the gas and airflow directly within the RI. As soon as you have recorded one roast with the Gas or Airflow control bar(s), set this roast as the reference to enable Replay assist.
Learn more about Gas/Airflow control from the articles below: