In this article, you will learn how to troubleshoot your BrewBeacon connection.
If you are unable to resolve the issue by following the troubleshooting steps in this article, please create a ticket via support.cropster.com.
Beta means that the features are being tested with a select group of users to help us identify minor flaws under everyday conditions that we cannot reproduce internally. Therefore, it will be necessary that you share feedback with us and let us know whenever you come across some unexpected behavior.
Flow meter alarm or other machine error notification
If you notice a flow meter alarm or other (similar) error notification on the machine, it's most likely that your BrewBeacon either isn't installed correctly, or needs external power. Follow these steps:
Turn your machine off and disconnect it from power
If you are not yet using external power, it's highly likely this is causing the flow meter alarm.

Power BrewBeacon with a micro-USB power adapter.
All other cables remain in place
In case you need to change power supply, there is no need to disconnect and/or reconnect the machine in your Cropster Cafe account. Simply turn the power on and start tracking brews!
Brews aren't synced to Cropster Cafe
Access the BrewBeacon settings page and verify each step has a green checkmark. Sometimes, the settings page will show a warning next to the WiFi setup step. This warning indicates that the device was not able to connect to the Cropster Cafe server. In most cases, this warning will go away after a few seconds. If it doesn't, check your internet connection. If you have recently updated your Cafe WiFi, update the wifi connection here.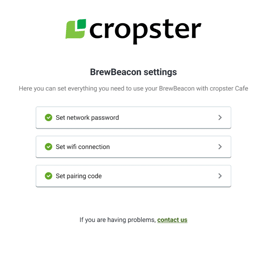 If the brews are not syncing to Cropster Cafe, please refrain from pressing the Disconnect button on c-sar. Even if brews aren't syncing to the platform, they are cached on the BrewBeacon until the sync issue is resolved. Disconnecting the machine from c-sar will result in the permanent loss of this brew data, as the BrewBeacon will need to undergo a factory reset in order to reconnect again.
The brews table shows 'unknown' grouphead
This means we are getting data from a grouphead we don't expect.
Check that the Number of groupheads on the espresso machine details page in c-sar matches your actual number of groupheads on your espresso machine.
Check the BrewBeacon wiring. The cables from group 1's Solenoid Sensor and Flow meter Connector are pairwise connected to Cropster BrewBeacon Input Group 1, those from group 2 to Input Group 2, etc.
Turn off the machine power supply and consider all Installation instructions when checking the wiring.
In case you need to change wiring, there is no need to disconnect and/or reconnect the machine in your Cropster Cafe account. Simply turn the power on and start tracking brews!
The brews table shows estimated timestamps
This means that the device did not have real-time (most likely due to a failed internet or WiFi connection). The brews made in this period are still recorded, but we can only estimate the time when they were made.
Check the brews table on the espresso machine details page in c-sar
If your latest brews have regular timestamps, everything is restored
If no brews are being synced, access the BrewBeacon's settings page and verify the WiFi connection.
Once the connection is restored, brews will be synced and show accurate timestamps again.
If this happens regularly, you may have a spotty internet connection.
Try to change the WiFi network for the BrewBeacon, or try to improve your WiFi or internet connectivity.
Avoid to turn your machine off and on. If the BrewBeacon reboots without being able to access internet, the timestamps of brews done in this bootcycle will be estimations.
For further details on the installation of the BrewBeacon, please find the official Product Manual here.