Cafe dashboard
as your primary Cropster dashboard.
First time logging in
If it is your first time logging into C-sar, your Cropster account, you will see a blue information box. Choose the Sure, let's do it! button to confirm, or No thanks! if you would prefer to do it later via My profile.

Via My profile page
You can set the Cafe dashboard any time as your primary dashboard from the My profile page.
Go to My profile by selecting the Account button () from the top-right corner of the page.
Scroll down to Default dashboard, and select Cafe Dashboard.
Click the Update your dashboard button.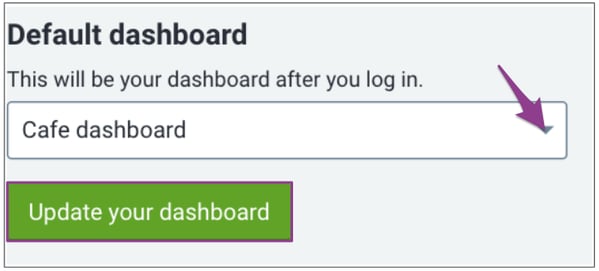 Thank you for being a Cropster customer!
If you have feedback, questions, or concerns, please feel free to reach out by submitting a support ticket directly from support.cropster.com.
More manuals and videos can be found on help.cropster.com