This manual outlines the steps required for a Cafe manager to get started with a Cropster Cafe account.
Before you can start to create and manage brew recipes, you need to set up Cropster Cafe.
Cropster Cafe
Cropster Cafe is an information and communication platform for cafes, covering coffee quality control and retail operations processes, shared by staff on bar, and remotely accessible by cafe and company management.
Recipes is the first Cafe module that enables you to manage your recipes across multiple staff and locations, monitor brewing parameters, set references, etc. It helps you to improve consistency and manage beverage quality, all throughout your retail operations.
Log in to the online platform C-sar.
Go to Cafe in the menu to enter the Cafe dashboard.
When you enter the Cafe dashboard for the first time, you will be led through the first steps. See the Demo video for more details.
Setting up cafe locations
Enter a Cafe location name and select a Country.
Click the Create location button to submit.
If you have more than one Cafe location to add, repeat the steps above.
Click the Save & Next button, once you are done adding locations.
If you would like to manage your locations, go to More > Locations.
Inviting Cafe managers and Baristas
Enter the Email address and the Name of the person you would like to invite to Cropster Cafe.
Assign the user a respective role:

Cafe manager: Can view and edit recipes and brews.
Barista: Can view recipes and edit brews.

Click Save & Next, once you have invited all Cafe users.

Under Users, you can manage users and assign permissions.
Customizing your recipe parameters
As a last step, you can customize your recipe parameters by checking the box next to the information you want to track with your different brewing methods.
Once you have selected your parameters, click Finish to get to the Cafe dashboard.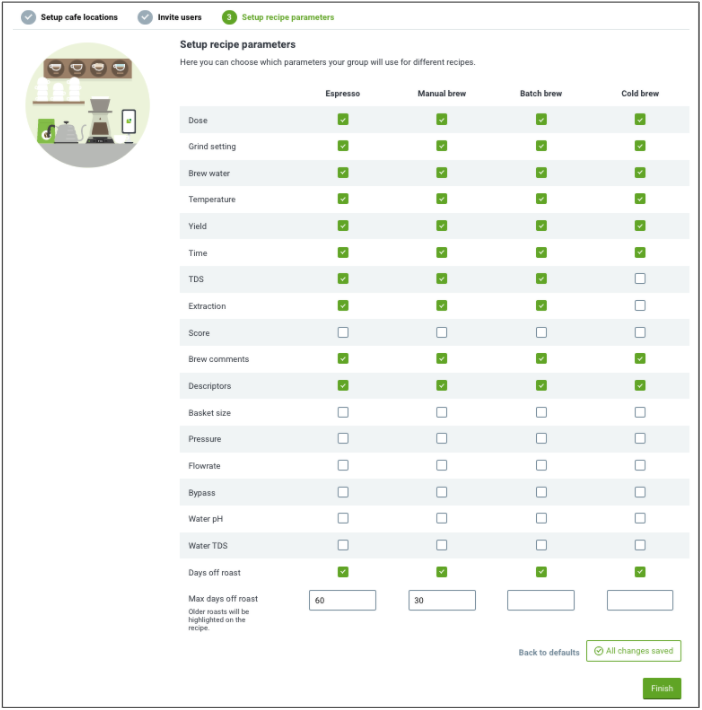 Under Cafe settings, the parameters can be revised at any time by a Cafe manager.
Congratulations! You are now ready to start logging your recipes and brews!
Thank you for being a Cropster customer! If you have feedback, questions, or concerns, please feel free to reach out by submitting a support ticket directly to support.cropster.com.
We design and make alterations to our software based on user feedback, so we look forward to seeing what you have to say!