This report is designed to show you if you are meeting your Roast Goals or not.

The benefit of using this tool is that you will have an at-a-glance comparison of your roasts based on the roast goals you have set.
After logging in to the online platform, go to Reports > Roast Goal Report.
Enter a Date range (e.g. custom, last week, last month, etc.) you are interested in filtering by.
Note: You are shown the last 7 days by default. The maximum date range is 1 year.
Use the Filters button to the right to filter for specific roasts by profile, machine, location, roast technician or goal type.
After setting the date range and applying the filters, the information and graph will update accordingly.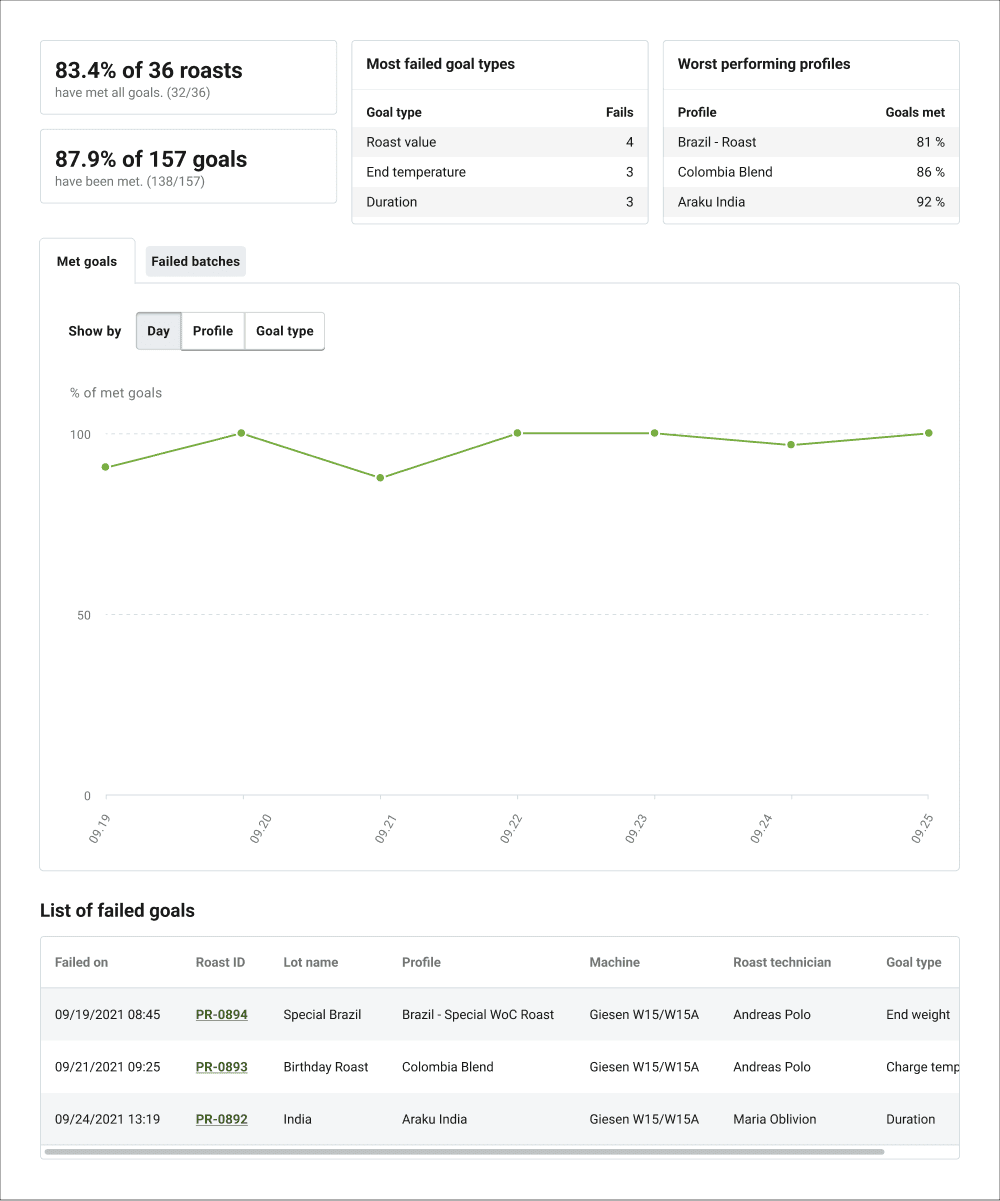 Overview section
See at a glance
% of roasts that met all goals
% of goals that have been met
# of roasts failed by goal type
Top 3 failed goal types by # of fails
Top 3 worst performing profiles by % of goals met
Note: Profiles (and their roasts) excluded from any goal check, as well as roasts missing development events (Turning Point, Color Change, First Crack) are not taken into account.
Graph
The Met goals tab shows you the % of goals met by Day, Profile or Goal type.
The Failed batches tab shows you the # of roasts by Day, Profile or Goal type.
Table
When scrolling down, you will find a table that shows you all goals failed within the selected time frame.
Exporting the data
Use the Export button top left to export your report as pdf- or xls- file.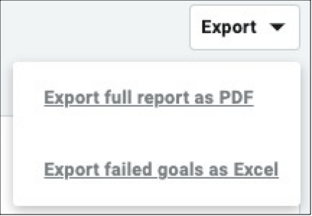 Click Export full report as PDF to be led to the printing page, where you can save your report as pdf-file or print it out.
Click Export failed goals as Excel to download the table at the bottom of a report into an xls-file.
Congratulations! You are now ready to use the Inventory Report!
Thank you for being a Cropster customer! If you have feedback, questions, or concerns, please feel free to reach out by submitting a support ticket directly from support.cropster.com.
We design and make alterations to our software based on user feedback, so we look forward to seeing what you have to say!