This article shows you how to create sample labels and present your coffee using SLIC.

Note: For more information on how to import samples to your account using the SLIC QR-code, click here.
What is SLIC?
SLIC stands for Secure LInked Coffee. Using SLIC, you can easily share or/and collect information on samples.
As a trader, you can use SLIC to create sample labels and share the information on samples with customers and interested parties. Each label has a unique QR-code that holds all the relevant data for your samples.
Buyers can collect sample information in a spreadsheet or even import these directly to their Cropster account by scanning the QR code with a smartphone or tablet.
Hint: Click here and check out our blog post for more information on SLIC.
Sharing sample information
The following part shows you how to create sample labels. The samples can be used to present your coffees at cupping sessions or to label your sample bags when sending out your coffees.
SLIC can be used:
To present your coffees at cupping sessions
To label your sample bags
Creating sample labels
There are two ways to create a SLIC sample label:
Via C-sar
Log in to the online platform C-sar.
Go to the Samples overview page in the menu.
Mark the lots you would like to create a label for. A menu bar will appear at the top of the table.
Click the Export icon > Generate sample labels.
Your sample information will be exported to slic.cropster.com where you can customize the information displayed on your labels before printing them. Scroll down to Customizing labels for more information.
Via SLIC
The following steps can be performed by anyone.
Go to slic.cropster.com and click on create SLIC labels here.
You will be brought to a form where you can enter the information you would like to share about your lots.
Use the Customize drop-down menu to select the information you would like to enter.
Use the +1 row button if you would like to create more than one label.
When you are done, click Generate sample labels.
Customizing sample labels
After you have successfully imported or entered your sample information to SLIC, you can customize your labels.
You will now see a preview of your labels on the left side. Right next to it, there is a toolbox to revise the layout and sharing options.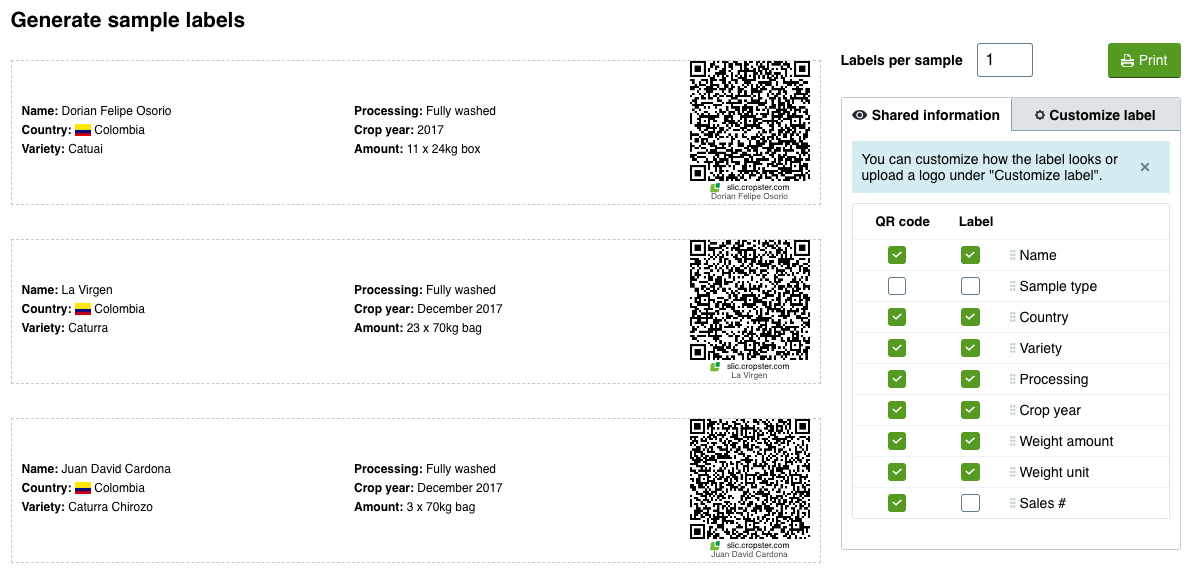 Sharing options
Under Shared Information, you can customize the information you would like to share and present.
Under QR-code, you can choose all relevant information to be shared. (e.g. it might not be of interest to share internal Sales #, etc.) Please note that all information checked under QR-code, is accessible after scanning the QR-code.
Under Label, you can choose the information you would like to have displayed on the labels.
Change the order of your information items by dragging and dropping the item lines.
Customizing the layout
Switch to the Customize label tab for layout revisions.
Within this section, you can upload your company's logo and make alterations to the design.
Show labels: If you would like to only show the QR-code on your labels, uncheck the box.
Format: Choose your preferred format.
Size: Enter the Width and Height of your labels.
Important: If you are using a label printer, it is important to adjust the size of your labels to the printer's default. Scroll down for more information on printing.
Alignment: Choose how the text should be aligned.
Data display: Choose how you would like to present the information.
Columns: Choose the number of columns.
Logo: Upload your company logo here by uploading the file from your computer.
Widths: Alter the size of your logo and QR-code.
Printing the labels
SLIC is compatible with any printer.
Go to the Customize label tab in the toolbox.
Before printing, enter the Width and Height of your label according to your printer's default. (see screenshot above)
At the top, enter the number of labels you would like to print for each sample and click Print.
How to use SLIC (Video)
Congratulations! You are now ready to easily share your sample information with your customers!
Thanks for being a Cropster customer! If you have feedback, questions, or concerns, please feel free to reach out by submitting a support ticket directly from support.cropster.com.
We design and make alterations to our software based on user feedback, so we look forward to seeing what you have to say!