The Cupper Compare report gives an insight of how the cupping panel scores over time. By the help of the Cupper Compare report you can see whether your cupping panel is calibrated well. Furthermore, it allows you to do a head to head comparison between two or more evaluators.
Generating the cupper compare report
After logging in to C-sar, go to Report > Cupper Compare.
Enter the following information:

Project: Select a project to only filter for cuppings that run under a specific project. (optional)
Time span: Enter a specific time span.
Evaluators: Choose up to five Evaluators you would like to compare the scores.

Note: The report only gets pulled up when all evaluators have attended the same cupping session(s).

Click Generate Report.
Note: If nothing happens after clicking the Generate report-button, please check whether all selected evaluators have attended the same session within the selected time-frame.
The Cupper compare report
When all information has been entered, two graphs show up at the bottom.
Sensorial Analysis
The Y-axis shows the cupping score and the x-axis the lots that have been evaluated.
By the help of the graph you can see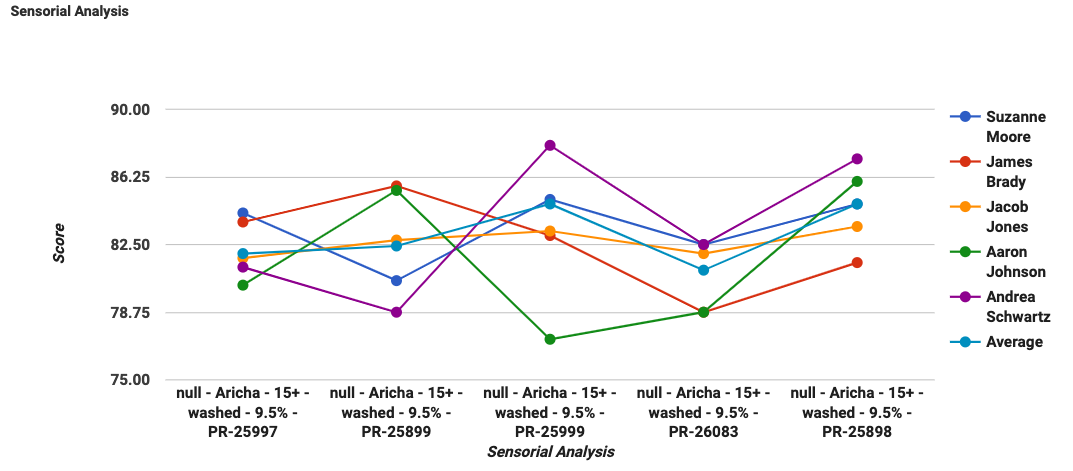 When scrolling down you will find another graph showing the scores compared to Evaluator 1.
The scores of Evaluator 1 will be used as the reference.