We recommend you learn about the following topics before continuing onto this article:
Reviewing automatically captured brews
From the espresso machine's detail page, select the Brews button (1).
If on iPad or browser, you will find the Brews tab under the Equipment details box.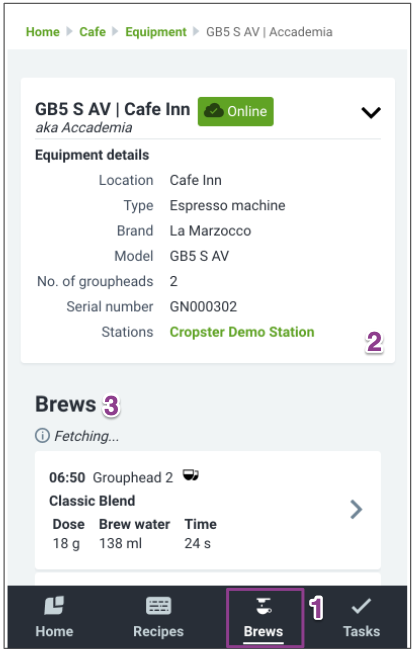 From the Brews tab, you can see more details about the espresso machine (2), such as the location, station, brand, and more. You can also see all logged brews (3) from your selected espresso machine with their parameters.
Note: The Brews button (1) available from the Cafe navigation bar (on mobile) are equal to accessing the Brews tab from iPad/computer.
The Brews section
The Brews section will show you recently captured brews; recent brews are found on top of the list. To review older brews, scroll down to the bottom of the brews list and click Load more.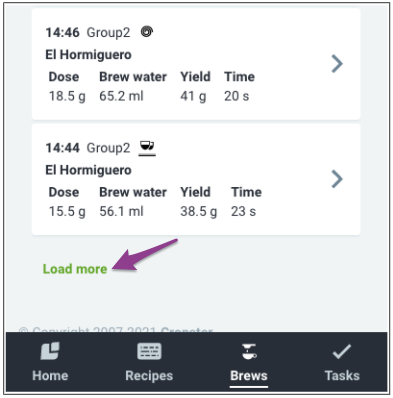 Each brew listing shows: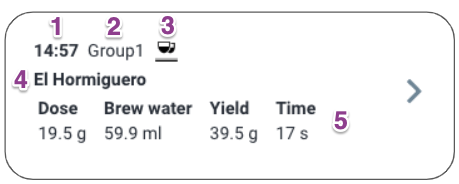 Log time
Group (Grouphead #)
Button (pressed when brew was logged)
Recipe
Brew parameters (based on Cafe settings):

Dose
Brew water
Yield
Time (brew duration)
etc.
Note: On iPad or browser, logged brews are displayed in a table format.
For brews tracked with a button unassigned to a recipe, the Recipe information will display as "Unknown".
Evaluating brews
Evaluating brews give you the opportunity to enrich your logged brews' data, such as sensorial descriptors, TDS, extraction, etc. Through the brew evaluation process, you can also decide whether the brew matches your brewing standards by setting the brew as Reference or Test.
Thank you for being a Cropster customer!
If you have feedback, questions, or concerns, please feel free to reach out by submitting a support ticket directly from support.cropster.com.
More manuals and videos can be found on help.cropster.com