Reference or Test?
When logging brews manually, or when evaluating automatically logged brews, you can set your brew as a Reference or Test.
Reference: Logging your brew as a Reference will update the recipe's brew parameters. We will then copy its input parameters to subsequent brews captured under the same recipe (until the reference is updated); it will become the new brewing standard for this recipe for this station.
Test: Logging your brew as a Test will not update the recipe. It will log the brew as a regular brew. This be useful when 'dialing-in' espresso, or during the initial creation of a recipe.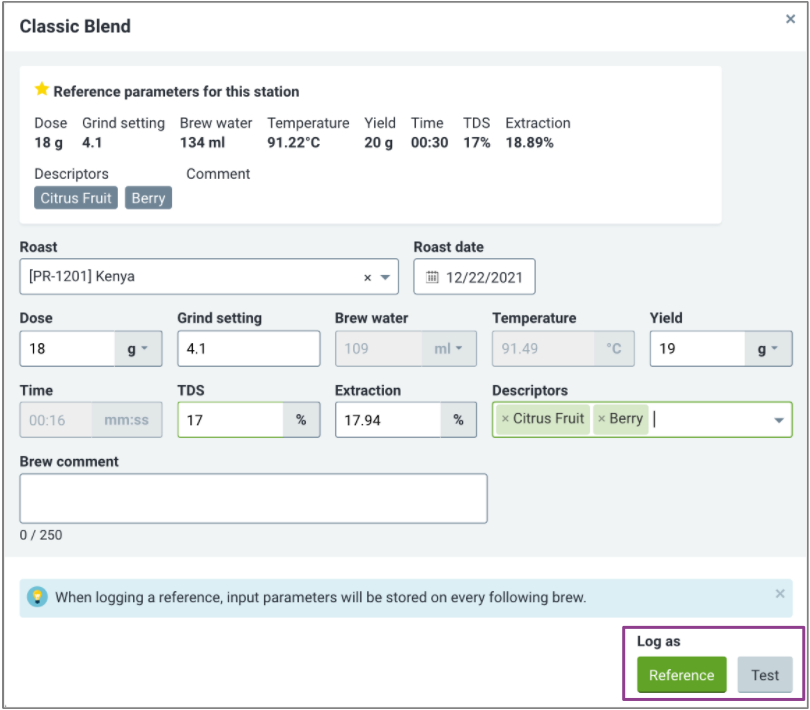 For example, when dialing-in espresso, if a brew does not meet your brewing standards, evaluate it as a Test. Once you have logged your ideal brew, update the recipe by evaluating the brew as a Reference.
Setting brews as a Reference or Test
Learn about evaluating brews as a Reference or Test through these articles:
Thank you for being a Cropster customer!
If you have feedback, questions, or concerns, please feel free to reach out by submitting a support ticket directly from support.cropster.com.
More manuals and videos can be found on help.cropster.com