In this article you will learn how to link and unlink buttons from the espresso machine to recipes as a barista.
Linking recipes
For espresso machines supported for automatic brew logging, you can link each of your espresso machine's buttons to a recipe. Cropster Cafe then tracks each of your brews under the right recipe - hands free.
Note: Multiple buttons can be assigned to the same recipe.
From a espresso machine's detail page, select the Recipes button (1).
If on iPad or browser, you will find the Recipes tab under the Equipment details box.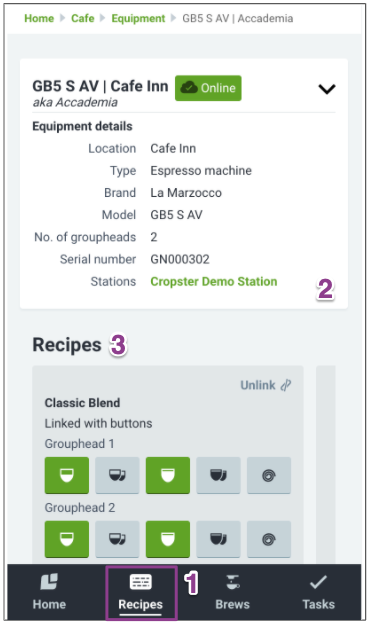 From the Recipes tab, you can see more details about the espresso machine (2), such as the location, station, brand, and more. From the Recipes section (3), you will be able to link/unlink buttons from your machine to be tracked under the specified recipe(s).
The Recipes button (1) available from the Cafe navigation bar (on mobile) is equal to accessing the Recipes tab from iPad/computer.
The Recipes section
Click the Link recipe button.


Choose a recipe to link.
Available recipes are espresso recipes with a reference for this machine's location.
Next, link buttons to this recipe, or add the recipe with all buttons unlinked.
Link a button to the recipe by selecting the gray buttons to enable them (turn green). Unlink a button by selecting the green buttons to disable them (turn gray).

Click the Link recipe button.
To link a new recipe, repeat steps 2 through 4.
Until changed, each brew done with the espresso machine's linked buttons will be stored under the recipes linked.
Linking a button to a recipe when it has already been linked with another recipe, will automatically unlink it from the prior recipe and link it to the new one. Any brews done by pressing this button will be captured under the new linked recipe.
Linking and unlinking buttons
When a recipe has already been linked to the espresso machine, under the recipe, simply pick a button to link or unlink for tracking.
Turn on tracking by tapping a gray button to turn it on (green).

Turn off tracking by tapping a green button to turn it off (gray).
Unlink recipes
Once a recipe has been linked, click the Unlink button to unlink the recipe and all the linked buttons for the recipe.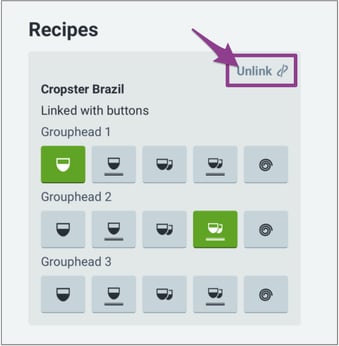 Thank you for being a Cropster customer!
If you have feedback, questions, or concerns, please feel free to reach out by submitting a support ticket directly from support.cropster.com.
More manuals and videos can be found on help.cropster.com