This manual explains how to add and manage shipment options in your Getbeans account.

This manual answers the following questions:
How can I add free shipping for a local region?
How can I add a shipping flat rate outside this local region?
How can I add a free shipping option outside this local region above a specific order amount (e.g. 80$)?
Setting up general shipment policies
General shipment policies are the countries and regions you generally plan to ship to. You can set individual shipment policies like fees within regions later.
Click on WooCommerce > Settings.
Select tab General.
Go to Selling location(s) and set the locations you plan to ship to.
Save changes.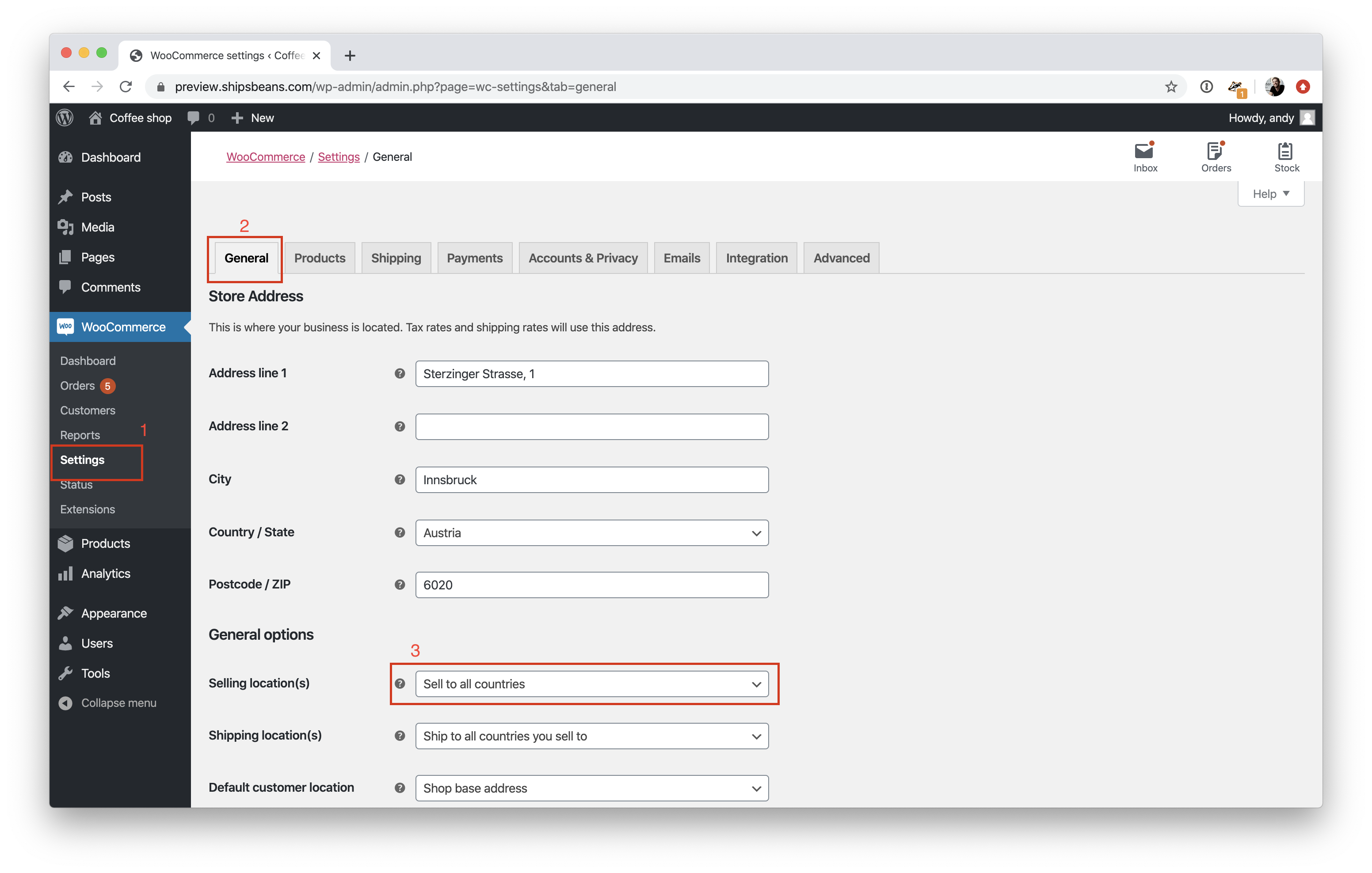 Setting up shipping zones
You can create different shipment zones, with different shipment policies for each.
Go to WooCommerce > Settings > Shipping tab.
Click the Add shipping zone button.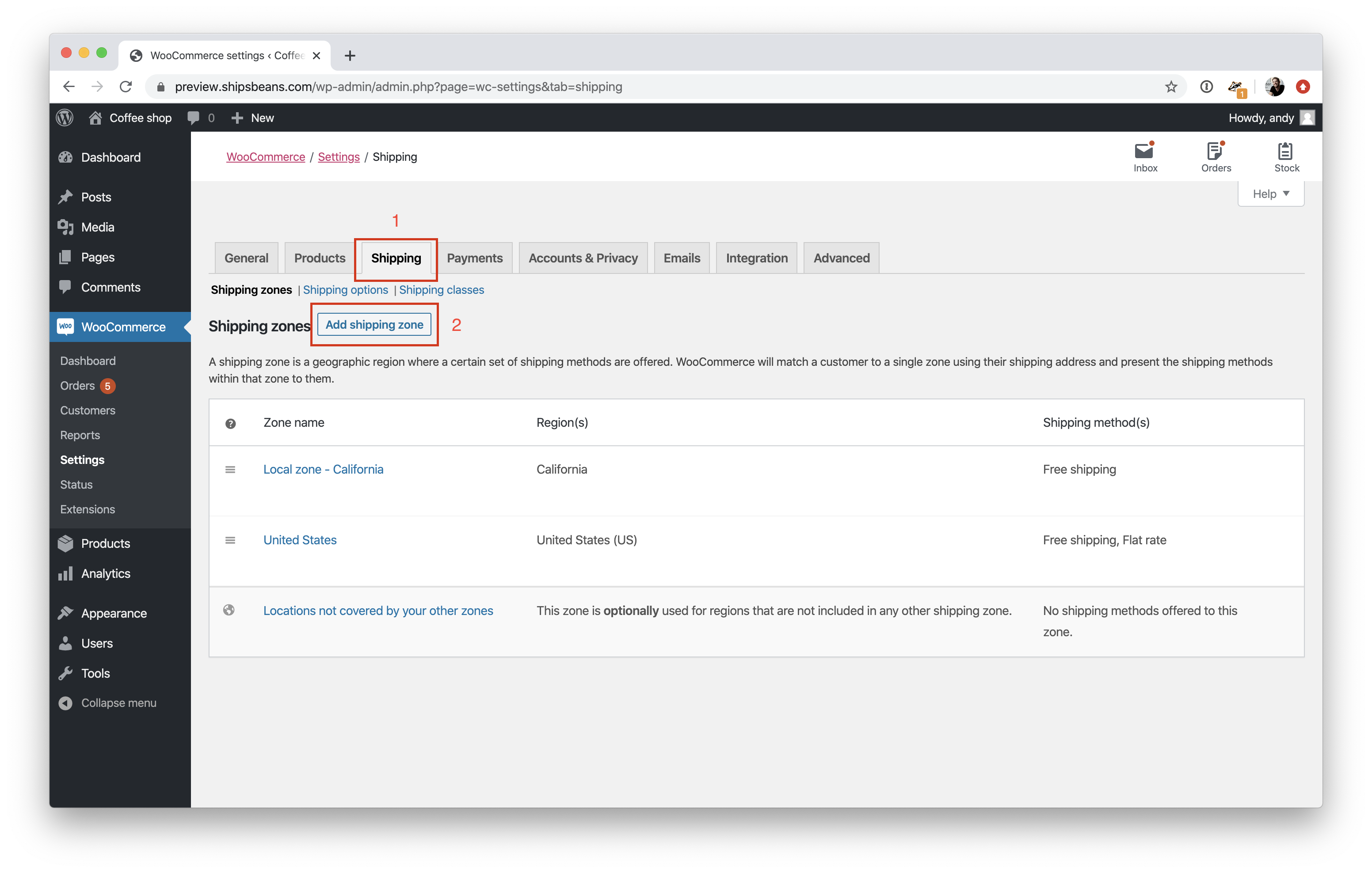 Creating your first shipment zone
You should begin with a shipment zone that is geographically closest around your business. Typically a local zone with better or special shipment options.
Go to WooCommerce > Settings > Shipping tab > Add shipping zone button
Enter a Zone name. This identifies a zone for you. E.g. Local zone - California
Define the Zone regions.
Note: This is the correct geographic region for this zone as used by your customer when they create orders (E.g. California, United States). Orders from this region will be provided with the shipment policies you set for this region.
Click the Add shipment method button.
Click on the drop-down menu for the Add shipping method pop-up window, then select between:

Free shipping: If you don't plan to charge for a shipment, given certain requirements (e.g. minimum amount) are met.
Flat rate: If you plan to charge a static fee for a specific region
Local pickup: If you want customers to allow pick the coffee up at a location
Setting requirements for "Free shipping"
If you want to use Free shipping for orders from a specific shipment zone, you can set specific requirements.
Click on a Shipment zone.
Hover over the name and click the Edit button.


If you have not yet added the "Free shipping" payment method:


Click the Add shipment method button.
From the drop-down menu, click the Free shipping option.
Click the Add shipping method button to confirm.

Hover over the new Free shipment method and click the Edit button

Select N/A if you want to grant free shipping for all orders from this region
Select any of the other options if you want to grant free shipment for this region, or if any customers have a free coupon and/or order a minimum amount:

Select any option including A minimum order amount..., then establish a Minimum order amount.
Note: The shopping cart value for the order must meet or exceed the Minimum order amount set to apply for free shipping. The minimum amount applies to the shopping cart value in the currency that you have set.


Save changes.
Hint: You can apply a combination for a single shipping zone e.g. free shipping over a certain minimum amount and then a flat fee for all orders below the minimum order amount.
Adding further shipment zones
You can add further shipment zones with other shipment policies.
Shipment policies will be automatically applied and displayed for orders coming in through your Getbeans web shop based on the most tightly defined criteria.
Note: For example if you granted free shipping to all orders from Geographic region - California and you want to apply a flat rate (e.g. USD 10) for the rest of the region United States, you only have to create the region United States and set a flat fee for this region. Getbeans will look for orders from California and apply free shipment based on your criteria.
For any other locations you plan to ship to, e.g. the rest of the world you can - optionally - also set shipment policies by going to WooCommerce > Settings > Shipping tab, then click on Manage shipping methods under "Locations not covered by your other zones".
This will apply only to the scope of locations that you have set under your general Selling locations (WooCommerce > Settings > General tab).

Shipment zone display in the shopping cart
Here are some examples how the shipment zones and policies that you have set up will display to the customer when checking out their order:
Free shipping for California: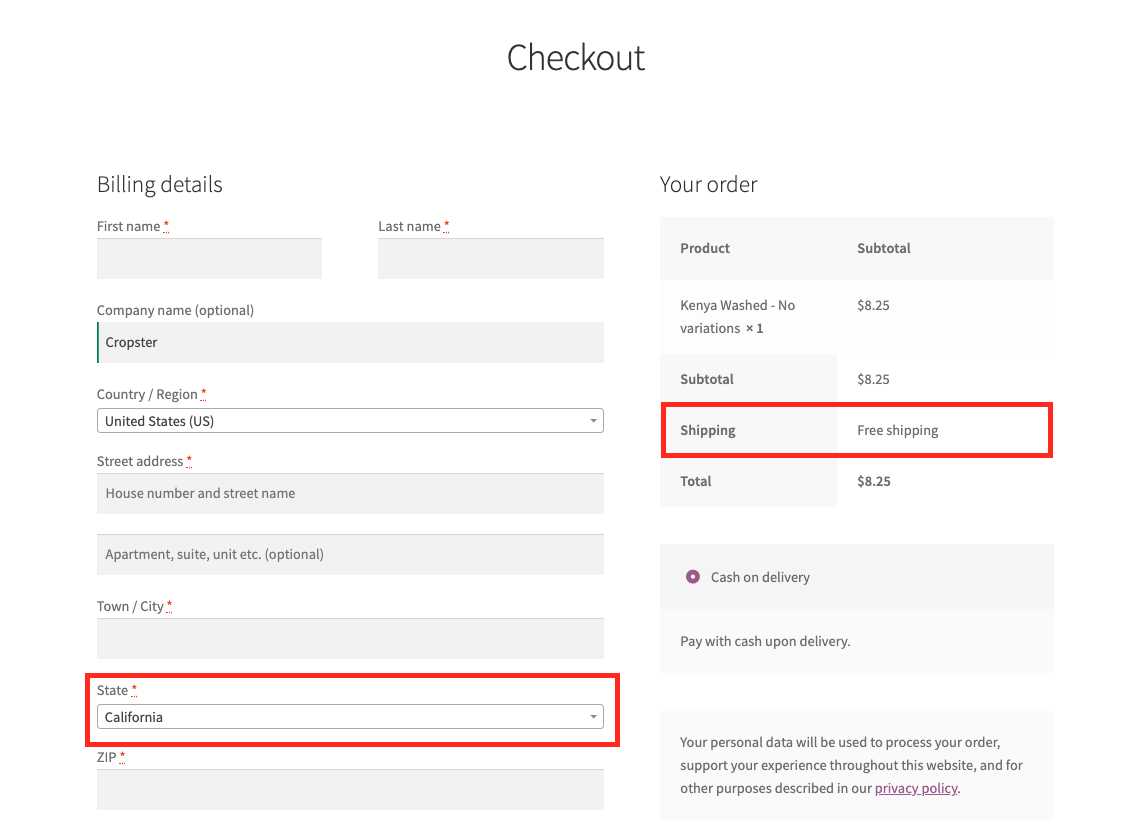 Flat rate shipping for Arizona:


Congratulations! You are ready to set up shipment methods!
Thanks for being a Cropster customer! If you have feedback, questions, or concerns, please feel free to reach out by submitting a support ticket directly from support.cropster.com.
We design and make alterations to our software based on user feedback, so we look forward to seeing what you have to say!