This manual will explain the procedure to transfer roasts from one Cropster account to another.
We advise that you export reference curve roasts or high priority roasts as this process will be time-consuming if you have numerous roasts to export.
Please follow the below instructions:
Hint: If on Google Chrome, open Incognito window to log in into one of the Cropster accounts and use the regular browser to login into the other. This will allow you to be logged into two different Cropster accounts simultaneously on the same browser.
Login to our online platform C-sar as the account you would like to export from and go to the Roasts section.
Open the roast you would like to export (i.e. PR-XXXX). From the overview of the roast, click on the Export button.
From the drop-down menu click the Roast curve option.

Login to the Cropster account you would like to import into and go to the Roasts section.
From the main overview of the Roasts section, click the button +Add

on the right-hand side of the page and select the

Roast (Curve Designer)

option.

Under the Roasting curve section, scroll to the bottom of the page, click on Upload curve and select the .crc file you had downloaded previously (i.e. roast_curve_PR-XXXX_hUxGs.crc)

Continue to fill the necessary information. The necessary information is as follows:

Roast name
Machine
Green lot
Start weight
End weight

After you are done click on Create Roast.
Hint: Upon saving the roast, the Green lot's weight will be adjusted according to the value entered in the "Start weight" field. If you do not wish to impact the selected lot's weight, set the Start and End weights to "0".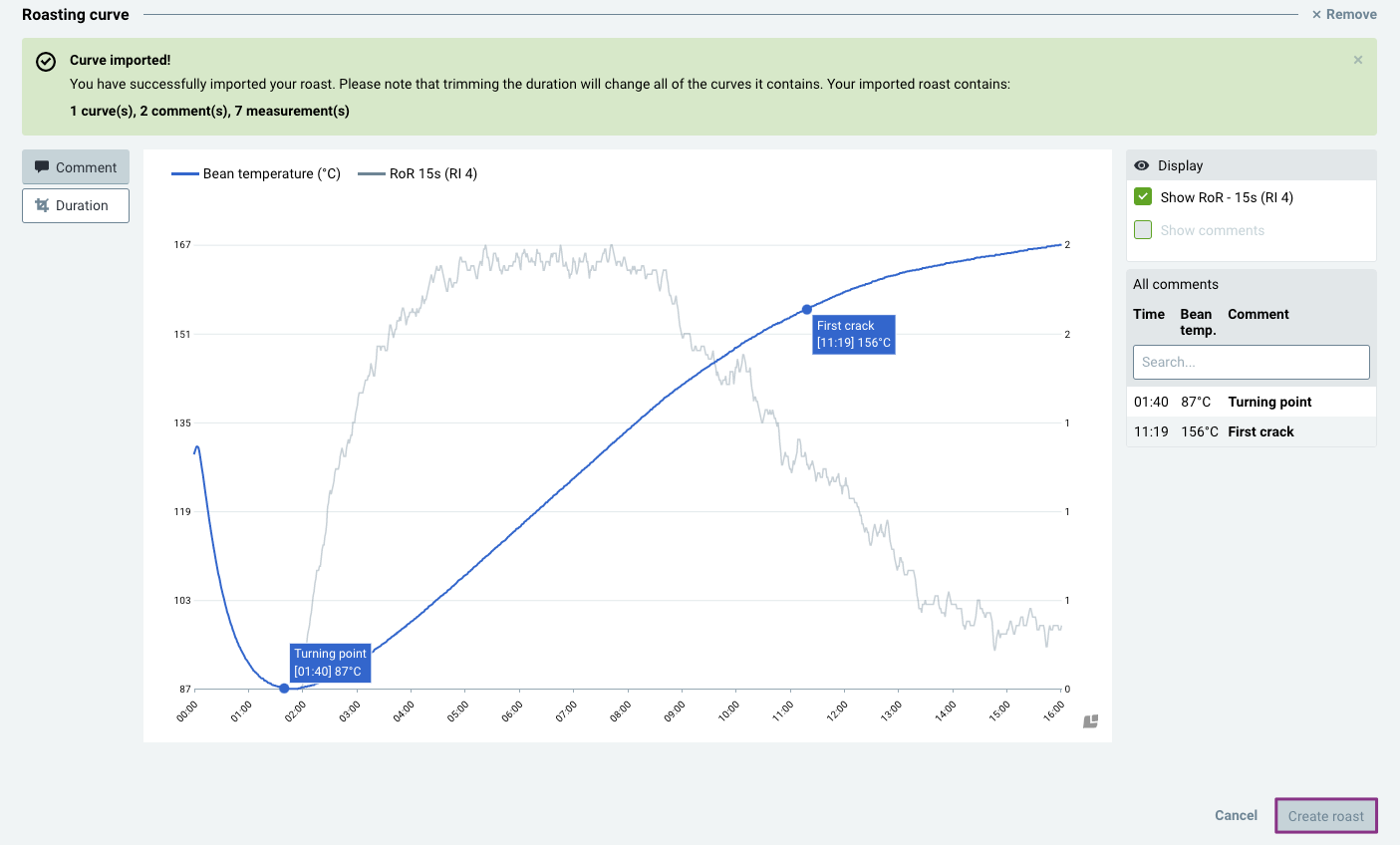 Note: If the import of the file was successful, you will see a message confirming the upload.
Learn more about Cropster's Roast Designer.
Troubleshooting
Please make sure that you are importing a roast with a bean temperature curve, else you will see the following error: