You need to have Cafe manager permissions to perform all the functions outlined in this article.
Why use Tasks?
Set up one-time tasks or reoccurring tasks to assign different chores throughout the team and to verify task compliance across equipments, locations and staff.
Tasks help you:
to take actions where needed
to maintain healthy equipment
to comply with health and safety regulations
Setting up tasks and task schedules
Create one time tasks or schedule reoccurring tasks for your team to verify task compliance.
Log in to our online platform C-sar.
Navigate to Cafe > Tasks to get to the Tasks overview page.
Click + Add new task to create a new task or schedule repeating tasks.
Enter the following information:

Name*: Name your task.
Location*: Assign your task a specific location .
Note: If you have more than one Cafe locations, you need to set up one task (schedule) per location.
Link with Equipment: Link your task to an equipment.
Move the Scheduling toggle button to the right if you want to set up repeating tasks or enter a Due date to set up a one-time task.
Frequency*: Define a frequency for repeating tasks, e.g. Daily, Weekly (or several days a week), Monthly, Yearly
Assign to: Assign the task to a specific person or leave it unassigned.
Note: Tasks specifically assigned to someone will only show up for that person. Unassigned tasks can be seen and fulfilled by everyone within the team.
Detail: Add more details or notes to the task.


Click Create task to add the task or task schedule.
The next upcoming task of a schedule will be shown on the Task overview page.
The Tasks and Task schedules overview page
From the Tasks overview page (1), you see at a glance all past and upcoming next tasks and their current status.
From the Schedules overview page (2), you see all task schedules that are set up

From the overview pages you can also customize your table and filter for specific tasks only.
From the Customize pop-up, add or remove columns to the overview table by selecting the checkboxes.
Note: Cropster remembers your customised table view.

Set Filters to only show specific tasks only. E.g. You want to see today's tasks that are not yet done in a specific location.
Note: Filters will reset automatically when you log out.

Managing tasks
Changing task statuses
Via the Tasks overview page you are able to change the status of your tasks.
From the Status column, you see if your tasks have been completed in time or not. An orange flag (

) in the Overdue column shows you which tasks are overdue and for how long.
Check the box next to the task you would like to change the status. A Status button appears at the top of the table.
Click Status and select the new status (e.g. Done) of the selected tasks.
When marking tasks as Done, a window pops up that prompts you to enter when and by whom the tasks were completed.


Confirm by clicking Set tasks to Done.
Editing tasks and task schedules
Editing tasks
From the Tasks overview page, you can edit and delete single tasks.
Click the Edit button next to a task you would like to edit.
If the task is linked to a schedule, you have the ability to change the Location, Equipment or Assignee.

Click Update Task to apply the changes.
The change will only be applied to the task in question. If the task is part of a schedule, the schedule itself won't be affected by the change.
Editing task schedules
If you want to edit a schedule and all tasks created by a schedule, you need to edit the schedule directly.
Go to the Schedules overview page by clicking at the Schedules tab.
Click the Edit button next to a task you would like to edit.
Update your schedule as needed and click Update task schedule to apply the changes.

Changes made to Name and Detail fields will affect all past and future.
Any other changes (eg. assigned to) will only affect future tasks created by the schedule.
Duplicating a task schedule
To create new task schedules for similar tasks faster, e.g. same tasks for another location or equipment, simply copy an existing schedule.
To duplicate a task schedule, click the Copy () button next to the schedule you would like to duplicate.
A duplicate of the schedule will be created. Edit the task schedule as needed.

Click Create task schedule to save the schedule.
Deleting tasks and task schedules
To delete a task or a task schedule, click the Delete ()button next to the task/schedule in question.
A warning shows up. Click Delete to confirm the deletion.
Deleting a single Task won't affect the task schedule linked.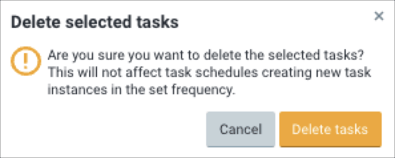 When deleting a Task schedule, no more tasks will be created by the schedule. Tasks that have already been created won't be affected by the deletion.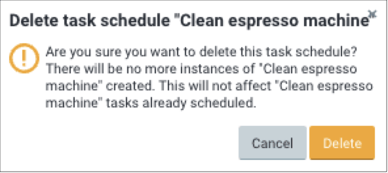 Congratulations! You are now ready to manage tasks within Cropster Cafe.
Thank you for being a Cropster customer! If you have feedback, questions, or concerns, please feel free to reach out by submitting a support ticket directly from support.cropster.com.
We design and make alterations to our software based on user feedback, so we look forward to seeing what you have to say!